B
Känguruland
Wiesbaden
2020
The "Känguruland" (kangaroo land) in Erbenheim is an inclusive outdoor area where two llamas and two donkeys live. Children and young people with special needs are looked after and supported here. You can move around freely in the enclosed area and independently establish an affinity for animals. Animal-assisted care has a very positive effect on young people who build trust in the animals and communicate with them.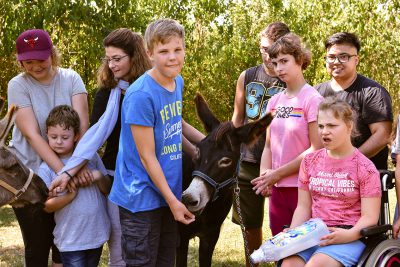 7.370 €
donated so far for this project.
Of which 4.225 € through donations and 3.145 € through the returns from the endowment fund.
6.000 €
Our donation target
88 Donations
donated so far for this project.
Project completed
Project name
Känguruland
Location
Wiesbaden
Project partner
The non-profit "Känguru Mobil GmbH" has been looking after and promoting children and young people with disabilities since 2003 and is there to advise families. It aims to provide children an offer tailored to their capabilities and needs. One of them is kangaroo land.
Project partner's website
Project partner's aim
In the "Kangaroo Land" we support disabled children and young people through animal-assisted care. Our donkeys and llamas help children and young people to reduce fears, to communicate and to allow closeness.
Aim of the BeA Foundation
Maintenance of the kangaroo land: For the care of the animals and the area as well as for food and water there are costs of approx. € 4,600 per month, which is not covered by the care costs of the children.
Note: This part is in German only and will not be translated!
Mitten in Wiesbaden gibt es das Känguruland
Das Känguruland hat seinen Namen von dem australischen Beuteltier, das seine Jungen mit viel Fürsorge und Geborgenheit großzieht. Genau das bekommen die Kinder und Jugendlichen mit Beeinträchtigung auch in der Betreuung im Känguruland. Hier ist das Angebot nach den Möglichkeiten und Bedürfnissen der Kinder gestaltet. Betreut werden die Kinder während der Schulzeit am Nachmittag oder ganztags in den Ferien. Sieben Kinder besuchen das Känguruland im Schnitt pro Tag, in den Ferien sind es mehr. Auf dem barrierefreien Freizeitgelände können Kinder und Jugendliche mit besonderen Bedürfnissen spielen, toben, entspannen und bei den Tieren sein. Im Känguruland wohnen zwei Esel, Speedy und Tess, und die beiden Lamas, Zulu und Saba. Es gibt einen Spielplatz und ein großes Haus mit sanitären Anlagen und einer Küche, in das man sich bei schlechtem Wetter oder einfach mal so zurückziehen kann. Für beeinträchtigte Kinder und Jugendliche in der Umgebung von Wiesbaden gibt es kein vergleichbares Angebot.
Keine Angst vor Zuneigung
Es gibt Kinder hier, die haben noch nie ein Wort gesprochen und befinden sich in ihrer eigenen Welt. Doch wenn ein Esel oder ein Lama auftaucht, gehen sie in den Kontakt und genießen die Nähe der Tiere.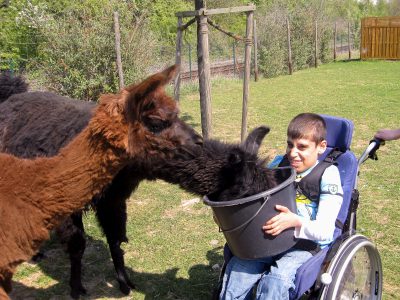 Die Tiere sind so zutraulich, dass sie sogar Futter aus dem Futtereimer auf dem Schoß eines Kindes, das im Rollstuhl sitzt, ganz behutsam fressen.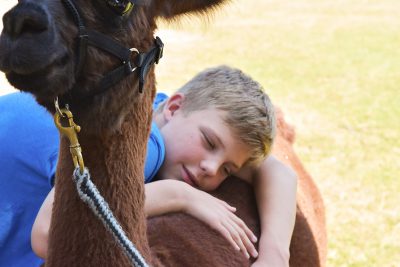 Unsere "Zappler" wiederum sind sehr nervös und ständig in Bewegung. Das ändert sich, sobald sie in die Nähe der Lamas kommen. Lamas sind Fluchttiere und laufen weg, wenn jemand auf sie zu rennt oder schnelle Bewegungen macht. Die Kinder haben gelernt, dass sie sich langsam bewegen müssen, um sie streicheln zu können. Dann ist sogar ein Kuscheln mit Saba möglich, was die Kinder ganz besonders genießen.
Auf Spenden angewiesen
Die Tierpflege und der Unterhalt des Geländes sind kostenintensiv. Jeden Tag ist ein Pfleger vor Ort, ob Wochenende oder Weihnachten. Füttern, ausmisten, mit den Tieren spazieren gehen, Hufpflege, Wurmkuren oder ein Zaunteil instand setzen – es gibt immer viel zu tun für unser Känguruland-Team, das aus einem Festangestellten und drei Ehrenamtlichen besteht. Zur Finanzierung des Angebotes ist das Känguruland ausschließlich auf Spenden angewiesen.