C
Zwerg Nase
Wiesbaden
2021
Dauerhaft im Rollstuhl oder im Bett sein zu müssen bringt mit sich, nicht zu wissen oder fühlen zu können, wie groß oder klein man ist, wie es ist durch eine Tür zu gehen, ob man kräftig oder dünn ist. Wenn man sich nicht allein anziehen oder bewegen kann, kann man ebenfalls kein Körpergefühl entwickeln, nicht fühlen, was die Beine oder Arme zu tun haben. Was Hände und Finger können. Sich beugen, drehen oder strecken zu können. Bei all dem hilft der "Snoezelenraum", den das Projekt Zwerg Nase entwickelt hat.
Donate to this project now Auf Facebook teilen
Note: This project is still in German only but will be translated soon!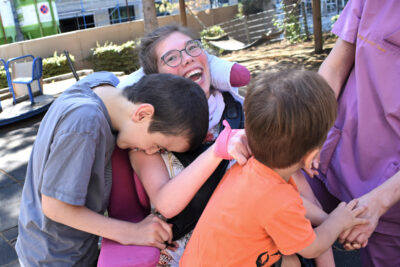 2.723 €
donated so far for this project.
Of which 2.723 € through donations and 0 € through the returns from the endowment fund.
12.000 €
Our donation target
21 Donations
donated so far for this project.
229 Days
remaining for donations
Project name
Zwerg Nase
Location
Wiesbaden
Project partner
Das ZWERG NASE Haus wurde nach der Gründung des Fördervereins ZWERG NASE e.V. bereits 1995 unter Herr Prof. Dr. M. Albani, im Jahr 2005 eröffnet. Um schwerkranken, beeinträchtigten und dauerbeatmeten Kindern und jungen Erwachsenen ein zu Hause geben zu können, eröffnet der Verein im Frühjahr 2021 das ZWERG NASE Zentrum.
Project partner's website
Project partner's aim
Ausstattung eines weiteren "Snoezelenraumes" für die Kinder im neuen ZWERG NASE Zentrum.
Aim of the BeA Foundation
Ausstattung für den neuen "Snoezelenraum", u. a.:
Musikwasserbett, Projektor, Bodenmatten, LED-Wassersäulen, Sicherheitsspiegel, Vibrationsmatten, Klangschalen, spezielle Geräte für Lichteffekte, Faseroptikstränge, Flüssigkeitseffektprojektoren, Therapiemittel, Aufbewahrungsschrank uvm.
Donation period
1st January – 31st December 2021