A
Water is life
Zambia
2020
Water is not a privilege, but a human right! And yet many people in Zambia have to put up with considerable hardship to obtain their drinking water. Women and children, especially girls, often have to walk for miles, to get to the sometimes heavily polluted, water. Before starting the long walk to school, the children already have a lot of work to do. This would change with the construction of wells!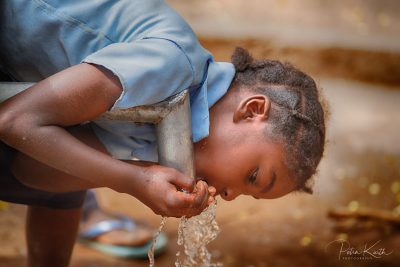 7.827 €
donated so far for this project.
Of which 4.682 € through donations and 3.145 € through the returns from the endowment fund.
6.000 €
Our donation target
88 Donations
donated so far for this project.
Project completed
Project name
Water is life
Location
Zambia
Project partner
"Spirit of Zambia" is a private initiative of the married couple Petra Kurth & Manfred Weyrich, which was launched at the end of 2016. With projects such as "Water is Life", they want to improve the living conditions of families, especially children, in the long term and thus create the basis for education, work and health.
Project partner's website
Project partner's aim
Enabling people to access clean drinking water by building wells would:
Curb diseases (such as cholera)
Spare women and children the daily, arduous and dangerous walk to unclean water (eg river)
Support children and young people in attending school regularly
Act as a basis for the cultivation of agricultural products
Aim of the BeA Foundation
Construction of a well. This ensures long-term water supply for approx. 50 families, each with 4 to 8 people. The use of local companies and workers also has a positive effect on the local labour market (well construction, agriculture, etc.).
Note: This part is in German only and will not be translated!
Spirit of Zambia
Nach einem Besuch von Zambia im Jahr 2016 gründete das Ehepaar Petra Kurth und Manfred Weyrich das Projekt Spirit of Zambia. Sie haben viel recherchiert, nachgefragt und begonnen Materialien und Geldspenden zu sammeln. Ihrer Meinung nach ist es am wichtigsten, sicherzustellen, dass Kinder eine Ausbildung erhalten, denn es ist eine der Grundlagen für eine bessere Zukunft für alle. Das Ehepaar hat im Laufe der Jahre viel Schulmaterial und andere Sachspenden nach Zambia gebracht.
Brunnenbau - Wasser ist Leben
Jetzt wollen sie mit dem Brunnenbau neue Wege gehen und Kindern und Frauen die Lebenssituation erleichtern. Kinder sollen entspannter zur Schule kommen und Frauen mehr Zeit haben, andere Dinge zu erledigen. Sie wollen Frauen stark machen, weil sie überzeugt davon sind, dass Frauen wichtig für die Zukunft Afrikas sind.
Inzwischen wurde der fünfte Brunnen fertiggestellt. Die Standorte der Brunnen werden grundsätzlich nach dem Prinzip des größten Bedarfs festgelegt. Dabei werden die örtlichen Gegebenheiten (z. B. Schule, Krankenstation, besonders abgelegenes Dorf) sorgfältig geprüft. Wichtig ist auch, dass die Menschen vor Ort in die Überlegungen und die Ausführung der Arbeiten einbezogen werden. Damit kann die Nachhaltigkeit der Maßnahmen gestärkt werden. Den Menschen bedeutet es sehr viel, dass "ihr" Brunnen ihnen hilft selbständiger zu werden.
Ausblick
Das Projekt "Wasser ist Leben" soll dazu beitragen, Kindern und Jugendlichen mehr Zeit für Schule und Ausbildung zu ermöglichen. Daher werden Petra Kurth und Manfred Weyrich gleichzeitig auch die Unterstützung für die Schulen vor Ort weiterführen, denn auch hier liegt vieles im Argen. Dennoch folgen sie getreu ihrem Motto: "Viele kleine Leute, die in vielen kleinen Orten, viele kleine Dinge tun, können das Gesicht der Welt verändern!"