C
Strong integration supporters
Saarbrücken
2020
The "Strong Integration Helpers" project aims to give refugees orientation, avoid isolation and help solve everyday problems. In seminars lasting several days with expert lecturers, the helpers are to be given in-depth knowledge for practical work with migrants and answers to the questions that arise in everyday life are found using practice-oriented methods. Most of these "strong integration helpers" come from many countries in Africa and Asia and have gained their own experience of what it means to arrive uprooted and disoriented in a foreign country. As multipliers, they are therefore ideally suited to addressing problems in integration work with their compatriots, which often cannot be overcome due to the language barriers between Germans and foreigners. In this way they provide "help for self-help".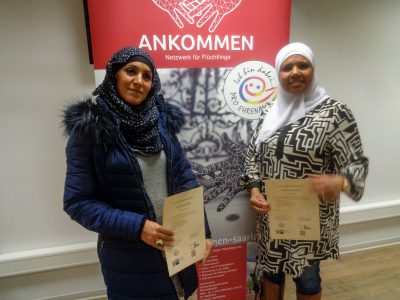 7.315 €
donated so far for this project.
Of which 4.170 € through donations and 3.145 € through the returns from the endowment fund.
6.000 €
Our donation target
87 Donations
donated so far for this project.
Project completed
Project name
Strong integration supporters
Location
Saarbrücken
Project partner
The state working group PRO EHRENAMT, founded in 1997, launched the ANKOMMEN network as an umbrella organization for civic engagement in Saarland in 2014, which supports refugees in finding their way around Saarland. The LAG PRO EHRENAMT has been promoting voluntary activities for many years, including by founding six volunteer exchanges in Saarland.
Project partner's website
Project partner's aim
Giving refugee's orientation, avoiding isolation and helping to solve everyday problems. The aim is to provide the helpers with in-depth knowledge for practical work with migrants.
Aim of the BeA Foundation
Ensure the financing of another course: costs for speakers, rooms, tender, materials, final evening.
Note: This part is in German only and will not be translated!
Das Netzwerk ANKOMMEN
Die Veranstalter der Weiterbildungsseminare für die "Starken Integrationshelfer", das Stadtteilbüro Alt-Saarbrücken und das Zuwanderungs- und Integrationsbüro der Stadt Saarbrücken, haben in 2014 das Netzwerk ANKOMMEN gegründet. Es möchte eine aktive Willkommenskultur leben und dabei helfen, das Ankommen von Flüchtlingen insgesamt menschlicher zu gestalten. Das Netzwerk gibt Flüchtlingen Orientierung und hilft dabei, Isolation zu vermeiden und Alltagsprobleme zu lösen. "ANKOMMEN" ist ein buntes Netzwerk von ehrenamtlich tätigen Personen, die es sich zum Ziel gesetzt haben, gemeinsam mit den in Saarbrücken und Umgebung ankommenden Geflüchteten und MigrantInnen schnell und unbürokratisch nach Lösungen zu suchen.
Die "Starken Integrationshelfer"
Das Besondere an diesem Projekt ist, dass ausländische Mitbürger, die vor ein paar Jahren selbst geflohen sind, jetzt als Multiplikatoren für ihre Landsleute ausgebildet werden. Das ist ein besonders wichtiges Element in der Integrationsaufgabe: "Migranten helfen Migranten". Die Integration hat damit eine ganz andere Wertstellung. Nicht wir Deutsche informieren die geflüchteten Menschen, sondern die Flüchtlinge selbst, die sich auch viel besser in die Problemlagen der frisch geflüchteten Menschen versetzen können. Dieser Qualifizierungslehrgang ist somit ein wesentlicher Baustein für eine erfolgreiche und nachhaltige Arbeit beim Netzwerk ANKOMMEN. 120 Menschen engagieren sich dort freiwillig und unentgeltlich in der Betreuung und setzen sich für ausländische Mitbürger ein. Die ausgebildeten Integrationshelfer sind damit auch Teil dieses ehrenamtlichen Netzwerkes und setzen sich nach dem Prinzip "Hilfe zur Selbsthilfe" für die Integrationsarbeit ein.
Die Weiterbildung
Ein erster Lehrgang ist bereits 2019 erfolgreich durchgeführt worden (alle Teilnehmer haben ein IHK-Zertifikat erhalten). Diese Weiterbildung hat große Signalwirkung gehabt und die Integrationsarbeit in Saarbrücken sehr positiv beeinflusst. Die Teilnehmer aus dem letzten Jahr treffen sich weiterhin regelmäßig in einer Netzwerkgruppe zum Erfahrungsaustausch. Dies ist ein wichtiger Baustein für die Nachhaltigkeit dieser Aktion.
Eine neue Gruppe von maximal 20 Teilnehmern mit ersten Erfahrungen in der hauptamtlichen Integrationsarbeit soll durch die Weiterbildungsmaßnahme zu "Starken Integrationshelfern" ausgebildet werden. Die Weiterbildung umfasst insgesamt 40 Stunden an fünf Tagen und vermittelt den Teilnehmern wichtige Kenntnisse in den Bereichen Zusammenarbeit mit Ämtern und öffentlichen Einrichtungen, Kommunikation, rechtliche und ausländerrechtliche Grundlagen sowie Aufbau und Nutzung von Netzwerken.
Die Bea-Stiftung wird das Netzwerk ANKOMMEN dabei unterstützen, die Finanzierung für einen weiteren Lehrgang (Kosten für Referenten, Räume, Ausschreibung, Materialien, Abschlussabend) finanziell sicherzustellen, da der Bedarf hierfür bei 1.800 Flüchtlingen in Saarbrücken sehr groß ist.