B
Ortho-Hilfe Afrika
Burkina Faso
2019
Young people (on average 40 years old) have the most severe hip problems. With the implantation of artificial hip joints they regain their earning capacity and can feed themselves and their family in the long term. Only severely disabled patients are operated on. A social case history ensures that only the most needy are treated. Persons over the age of 60 remain on the waiting list.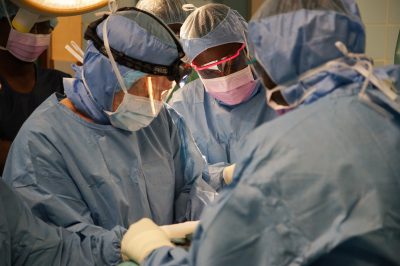 6.219 €
donated so far for this project.
Of which 3.802 € through donations and 2.417 € through the returns from the endowment fund.
5.500 €
Our donation target
67 Donations
donated so far for this project.
Project completed
Project name
Ortho-Hilfe Afrika
Location
Burkina Faso
Project partner
The OHA!, Ortho-Hilfe-Afrika foundation was founded in 2013 by Dr. med. Etienne Heijens in Wiesbaden and organizes annual orthopaedic missions in Burkina Faso.
Project partner's website
Project partner's aim
Acquire / restore work ability of people through hip surgery. They can feed themselves and their families in the long term. The medium-term goal is to train local staff to carry out the operations. A further goal is the optimization of the medical infrastructure of the hospital (Ouagadougou).
Aim of the BeA Foundation
Acquisition of an additional milling tools (€ 7,000), which is necessary to implant the acetabulum. This will allow the possibility of approximately 10-15 further operations during a two-week mission.
Donation period
1st January – 31st December 2019
Note: This part is in German only and will not be translated!
Häufige Hüftdestruktion bei jungen Menschen
Durch Sichelzellanämie, Aids, nicht-versorgte Knochenbrüche, etc. erleiden überproportional viele junge Menschen eine Destruktion Ihrer Hüftgelenke.
Spezialisierte Hilfe vor Ort
Mit Operationen die Patienten in Burkina Faso nicht zur Verfügung stehen: BN-Einkommen: 982€/Jahr. Kosten einer Hüftoperation, vor Ort oder Ausland > 10.000€
Erwerbsfähigkeit wiederherstellen oder erhalten
Mit der Operation werden Patienten von Schmerzen befreit und sind wieder in der Lage sich und Ihre Familien langfristig zu ernähren.
Europäischer Qualitätsstandard
Instrumente und Implantate sind identisch zu denen die wir in Deutschland verwenden. Nach 144 Implantationen war nicht eine einzige Infektion zu verzeichnen.
Jeder Euro kommt an
OHA! arbeitet verwaltungskostenfrei. Sieben "Aktive" spenden 2 Wochen Urlaub und Freizeit während des gesamten Jahres zur Organisation und Realisierung der Missionsreisen. Gelder die nicht für die Mission (Umsatz 40.000€) benötigt werden, werden zur Verbesserung der Infrastruktur, vor Ort, investiert. Beispielhaft wurde durch die Beschaffung eines mobilen Röntgengerätes für den Operationssaal die Zahl der Operationen in unserer Abwesenheit von 80 auf 150/Monat gesteigert. Das sind 70 Patienten/Monat die davor abgewiesen worden sind.
Wirtschaftlichkeit
Über die letzten 5 Jahre wurden die Kosten durch Rationalisierung der Zahl der Mitreisenden um 30% gesenkt. Die Anzahl der Operationen wurde dadurch verdoppelt.
Effektivitätssteigerung
Technische Hürden haben uns, quantitativ, vor Kapazitätsgrenzen gestellt. Diese können und wollen wir überschreiten indem wir mehr Instrumente erwerben. Diese sind verlässlich, im Gegensatz zu "neuer Technik", die in Afrika immer Abhängigkeit hinterlässt. Wir erfahren starke Unterstützung von der Industrie und sonstigen Partnern. Aber nicht Alles "fällt vom Himmel". OHA! ist auf Spenden angewiesen. Der notwendige Erwerb von mehr Instrumenten führt gleichzeitig zu mehr Kosten für Implantate und Verbrauchsmaterial das für die zuzätzlichen Operationen benötigt wird.
OHA! bildet aus
Ärzte und Pfleger werden in Operationen und Organisationsabläufe eingebunden."Wir lernen sehr viel von euch". Seit 2013 waren 3 Kollegen zur Hospitation in Deutschland. Außer für die Flugtickets, wurden dafür keine Spendengelder genutzt.
OHA! motiviert Jugendliche
Mit Vorträgen und Aktionsunterstützung in Schulen. Seit 2018 bieten wir jährlich einen Praktikumsplatz an. Zielgruppe sind junge Volljährige. Auch nicht-medizinisches Engagement ist förderwürdig.