C
Zukunftsmentoring
Rhein-Main
2019
The inspiration days allow many young people to learn about their future options and to reflect on their own behaviour. Sharing with adults outside their own environment allows them to talk about worries, entrusting their dreams to someone who does not value judge them and get to understand other values. The anti-violence training as well as the project "Change starts with you" strengthens the young people in their character and in their social skills and thus also influences the class culture. In addition, parents are coached and strengthened in their ability to communicate through interactive lectures and workshops, so that they can deal with the challenging time of puberty with their adolescents as constructively as possible.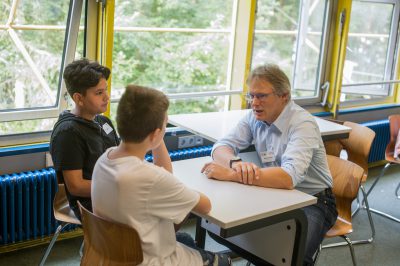 5.546 €
donated so far for this project.
Of which 3.129 € through donations and 2.417 € through the returns from the endowment fund.
5.500 €
Our donation target
67 Donations
donated so far for this project.
Project completed
Project name
Zukunftsmentoring
Location
Rhein-Main
Project partner
Mentor Foundation Germany, founded in 2016, independent member of the Mentor Federation. Founding of Mentor International in 1994 by IM Queen Silvia of Sweden in Stockholm. Prevention programs against social isolation of 13 – 17 years old adolescents. Mentoring programs in schools and parent coaching.
Project partner's website
Project partner's aim
Inspiration days at schools in the Wiesbaden, Mainz and Frankfurt area kick off a long-term cooperation with the schools. Young people should be inspired to think more about their future. They meet adults outside the usual environment and get a new look at their own lives. Programs are to be carried out at hot spot schools.
Aim of the BeA Foundation
Realization of 15-20 Mentor project days at the location Wiesbaden / Frankfurt in the form of inspiration days, future mentoring and parent lectures at 1-3 schools. Additionally, the recruitment of a further program manager for the Frankfurt Mentor location in form of a person who leads the mentoring programs locally.
Note: This part is in German only and will not be translated!
Präventionsprogramme
Wenn junge Menschen schon früh die Hoffnung verlieren, wenn sie nicht richtig integriert sind in eine soziale Gruppe, in der sie Wertschätzung, Motivation und Achtung erfahren, wenn sie keinen Zugang zu guter Bildung und Ausbildung haben, dann ist der Weg, der vor ihnen liegt, oft kein guter Weg. Die Präventionsprogramme der Mentor Stiftung stärken Jugendliche zwischen 13 und 17 Jahren in ihrem Selbstwertgefühl darin, sich selbst etwas zutrauen und zu träumen wagen. Durch Erfahrungen mit Menschen, die sie normalerweise so nicht treffen würden, wird der Horizont der jungen Menschen erweitert. Die Mentoren nehmen sie und ihre Träume ernst, diskutieren mit ihnen mögliche Konsequenzen ihrer Entscheidungen und unterstützen sie dabei, sich selbst besser kennen zu lernen.
Inspirationstage
Die sogenannten Inspirationstage (Formate des Gruppen-Mentorings) finden an lokalen Schulen in sozialen Brennpunkten statt. Sie werden in engem Austausch mit Lehrern, Sozialarbeitern und Schulleitung umgesetzt und geben den Jugendlichen in einer entspannten Atmosphäre die Möglichkeit, Antworten auf Fragen zu erhalten, die ihnen auf der Seele brennen. Sie erfahren an diesen Tagen mehr über mögliche Lebenswege und Entscheidungen und finden die Kraft aus dem eigenen Umfeld auszubrechen, weil sie erleben, dass dies anderen Menschen auch gelungen ist.
Ein gemeinsames Ziel
Das gemeinsames Ziel von Schulen und Mentor Stiftung sind gestärkte Jugendliche mit einem höheren Selbstwertgefühl, die bessere Entscheidungen für ihr Leben treffen können, weil sie eine neue Bewertung der eigenen Situation vornehmen und mehr Möglichkeiten für eine Zukunft kennenlernen.
Ansatz der Mentor Stiftung